Kiersten attended the University of Florida where she received her Bachelor of Health Science degree in Communication Sciences and Disorders with a minor in Disabilities in Society. She then continued on at the University of Florida to earn her Master of Arts degree in Speech Language Pathology.
Prior to AASL, Kiersten spent four years in the public school systems in Florida and South Carolina. She worked with students with Autism Spectrum Disorder, intellectual disabilities, physical impairments, and emotional/behavioral disorders. She primarily provided intervention services for students from ages 3 to 21 to increase their functional communication skills and implement their Individual Education Plans (IEPs). Kiersten has experience working with students in need of Augmentative and Alternative Communication (AAC) services including voice output devices, eye-tracking devices, tactile symbols, and switches. Kiersten also has experience evaluating and providing intervention in the areas of expressive and receptive language, social skills, phonological and articulation disorders, fluency, literacy, hearing impairments, and intellectual disabilities. She has a passion for working with children of all ages!
Kiersten is dedicated to giving a voice to every child. She believes in treating the whole child by utilizing individualized lessons and therapy goals. She works hard to create a supportive learning environment while also having fun!
Kiersten lives in Tampa with her husband and her puppy, Maggie. She loves everything about the Tampa Bay area and spends her time boating, going to sporting events, taking her dog on walks, and finding new coff
What is your favorite food?
My favorite food is sushi, but I also love any kind of pasta dish.
What is your favorite holiday and why?
My favorite holiday is Christmas because I love the joy and excitement that surrounds the Christmas season!
What is a cool hobby of yours?
I love fishing!
Favorite Halloween costume you wore as a child?
I was Bubbles from the Powerpuff Girls.
What did you want to be "when you grow up"?
When I was younger, I wanted to be a veterinarian or a doctor but as I got older, I really wanted to be a photographer.
Why did you become a therapist?
I always attribute becoming a therapist to one summer when I worked with the Special Olympics swim team at my neighborhood pool. I absolutely loved the experience working with children with varying disabilities, and this experience has stuck with me over the years. I love the idea of working to make a difference in someone else's life and I love working with kids – so an SLP was the perfect job for me!
What's the funniest thing one of your kids has said to you or done during therapy?
I always say I could write a book about the funny things my kids say but recently, I was telling my kids I would be missing a few days because I was getting married, and they looked completely shocked and yelled "who is marrying you?!".
Give me one surprising/cool fact about you?
I am a huge college football fan! I don't typically miss a game – Go Gators!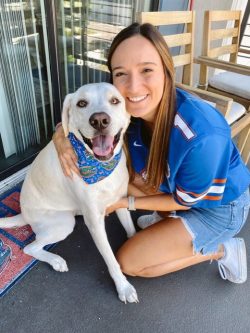 What pets do you have and what are their names?
I have a dog named Maggie. She is a big, sassy, white lab!
What is your favorite movie and why?
I love all of the older pixar movies – Monsters Inc, Finding Nemo, A Bug's Life – they have such great messages and are really funny!
Favorite song?
I Won't Back Down by Tom Petty
Favorite book?
Charlotte's Web