Brittany joined the All About Speech & Language team in 2014.
Brittany attended the University of South Florida where she received her Bachelor of Art (B.A.) degree in Communication Sciences and Disorders with a minor in Psychology. She graduated with her Master of Science (M.S.) degree in Speech-Language Pathology.
Brittany is passionate about working with children to improve their communication skills across all their daily life settings. She is experienced in evaluating and providing treatment in a variety of areas including autism, articulation, expressive and receptive language, and fluency in addition to implementing intervention for individuals who require augmentative and alternative communication. Brittany is an Interactive Metronome trained provider. She additionally is trained in TLC Lively Letters and implements Orton Gillingham and Lindamood Bell methods into her reading instruction. You'll find Brittany actively involved in all of AASL's social programs; from bringing students directly into the community for real-life practice to leading the parent-based group of the PEERS program. Brittany believes that every child is unique and tailors therapy to create individualized plans in order to meet that child's needs so that he or she can become successful as growing members of the community.
Brittany also enjoys working with adults and has gained experience providing cognitive therapy while also managing complex behaviors in individuals who have sustained traumatic brain injuries. She also has participated in aphasia groups and fluency groups with an emphasis on generalizing skills to life at home, at work, and in the community.
Fun Facts About Brittany:
Favorite Food: Its so hard to pick just one! I am a big food lover. If I had to choose, I would say sushi. My dad's arroz con pollo is a close second!
Favorite Holiday: Christmas! It's such a happy time of year and I love it because I am able to spend more time with family.
Favorite Halloween Costume I wore as a Child: I was a witch in this photo and I'm pretty sure this is the biggest smile I had on in pictures of me in costumes!
Cool Hobby: I love taking pictures of anything and everything. My favorite thing to capture (other than my dog, Jammer) is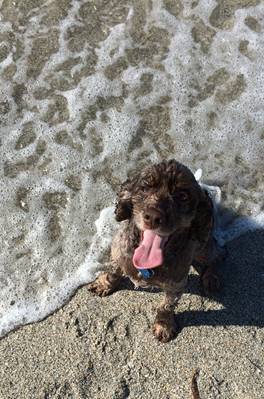 always flowers! Here's a few from different places.
What did you want to be "when you grow up"?: I wanted to be a doctor for a long time growing up. I've always wanted to work with others and I've always loved kids. I also wanted to be a cowgirl though so I was just a little indecisive.
Why did you become a therapist?: I became a therapist thanks to my mom's client. I was not enjoying pre-med in college and she recommended that I look into Speech Pathology. I took an introductory course and absolutely loved it. Working with families and seeing clients in graduate school only confirmed my love of this field and make me more sure of my career choice. Nothing makes my heart happier than seeing little ones communicating and helping them to engage in the word around them!
Funniest thing one of my kids has said to me or done in therapy? A third grader told me I have wrinkles without intending any harm, of course. He was just curious why there were little lines on my face. Hah 🙂
Surprising Fact about me: I have a large sea shell collection! I collect cool shells from each beach I visit.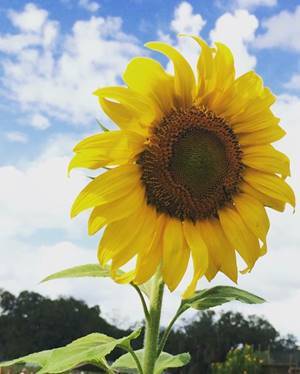 Favorite Movie: Sandlot
Favorite Song: It is hard to choose a favorite but one that never fails to make me happy is Take Me Home, Country Roads by John Denver! It reminds me of my mom and family in Minnesota. I love listening to country music, but enjoy lots of different genres as well.
Favorite book: The Traveler by Daren Simkin; it's a short story more than a book but I love the message and keep it in my living room as a reminder to live each day to the fullest! I also really love books by Carl Hiaasen, who is an author from Florida.
Pets: The most amazing dog, Jammer. My brother and his dog, Griffin also currently live with me so I technically have two dogs as of right now. They make every day brighter!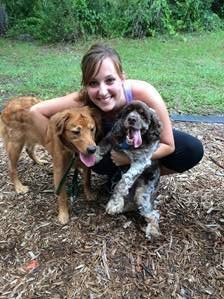 Facebook LinkedIn