Ashley is an energetic and enthusiastic Occupational Therapist who is eager to become a supportive part of your child and family's therapeutic journey. Ashley believes in supporting the child through a client-centered approach to therapy, focusing on fostering independence, improved self-efficacy and confidence related to daily activities, health and wellness, social participation, and of course… play!
Ashley was born and raised in Upstate New York and Graduated from Utica College with her Master's Degree in Occupational Therapy; she recently moved to the sunshine state, and is so happy to be here!
Prior to joining the AASL team, Ashley has had extensive pediatric training and experience. Ashley has been working most recently with children and adolescents birth – 18 years old in a hospital setting to promote quality of life, independence, social skills, as well as improved self-regulation and stability while navigating the world around them.
Ashley is passionate about supporting the child in various different contexts to meet the child's specific needs during therapy. Ashley is an out-of-box thinker and strives to make every therapy session meaningful and enjoyable, while ensuring functional goals and outcomes are established and being worked toward during each and every therapeutic activity.
Ashley has been a certified swim instructor for over 12 years and also has advanced training in Rocktape and trauma-informed care; Ashley has a background in program development as well as significant experience facilitating group therapy sessions and sensory-based interventions for children of all ages. Ashley has worked with children, adolescents, and adults with diagnoses such as Autism, ADHD, Down syndrome, Cerebral Palsy, Intellectual Disability, Developmental Disability, Genetic Disorders, Chromosomal abnormalities, Spina bifida, Fetal-Alcohol Syndrome, Oppositional Defiant Disorder, Major Depressive Disorder, Schizophrenia, Bipolar Disorder, Complex trauma, and numerous other medical diagnoses and conditions. Ashley also has critical care experience primarily related to Neurological and Cardiac rehabilitation. At the completion of her Master's Degree, Ashley completed her capstone research related to animal-assisted therapy with children.
Ashley strongly values building therapeutic rapport with the child and family, as well as taking the time to understand each child's specific needs; Ashley is a strong proponent of the "just right challenge" when addressing and working toward meeting desired outcomes for therapy!
In her free time, Ashley enjoys swimming, snuggling with her pup, spending time with family and friends, traveling, being outside in the sunshine, cooking, and practicing mindfulness. 🙂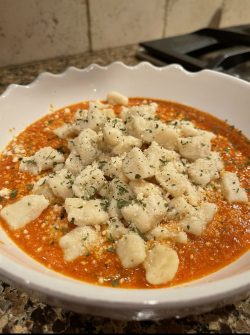 Get to Know Our Therapists
What is your favorite food?
My all-time favorite food has to be my mom's homemade spaghetti and meatballs!
What is your favorite holiday and why?
I love Thanksgiving! I have been making the Thanksgiving meal with my mom for my big family since I was young; I love sitting around a table and being able to spend extra time with family.
What is a cool hobby of yours?
I love to cook! I find enjoyment in the trial and error process of creating my own recipes and I love even more being able to cook for the people I love 🙂

Favorite Halloween costume you wore as a child?
Definitely the homemade ladybug costume my mom made me when I was in 1st grade…I actually found it a few years ago and it still fit!
What did you want to be "when you grow up"?
I knew that I wanted to be in a field where I was helping someone or making a difference in a person's life; I was interested in becoming a teacher until I discovered OT and I felt like it was the perfect fit for me!
Why did you become a therapist?
A few different reasons… A family member of mine required OT during a hospital stay and assisted my family member in regaining their independence; the OT also educated me on how vast and interesting the field of occupational therapy was. Additionally, I grew up teaching children how to swim and felt that that was my unofficial exposure to the field of occupational therapy once I learned more about it, as I was teaching and facilitating the development of life skills. I loved the feeling of communicating with the children and families on the progress made during the lesson!
What's the funniest thing one of your kids has said to you or done during therapy?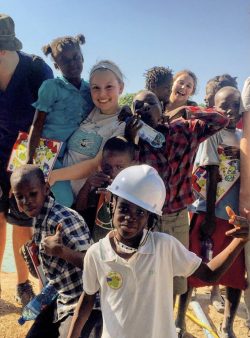 Just recently, we were in middle of a group therapy session, and one of the children in group got up out of their seat and began beat-boxing and dancing in the middle of the room!!  Almost immediately, everyone joined in and it became an impromptu dance party; we love to have fun in therapy!
Give me one surprising/cool fact about you?
I few years ago I went to different parts of Haiti on a humanitarian trip! I was there for around 2 weeks and we provided schooling, dental and medical assistance, a water filtration system to a village so they would have clean water, agricultural support to facilitate farming, as well as installed solar panels for electricity. We also collected basic hygiene products to distribute, as well as raised money for numerous food distributions while we were there. It was a life-changing experience and made me realize even more how much I value helping others in any way I am able to. I hope to go back in the future 🙂
What pets do you have and what are their names?
I have a dog named Murphy James! He is a Cavalier King Charles mixed with a Cocker Spaniel and is also my best bud 🙂
What is your favorite movie and why?
The Pixar movie Soul was probably one of the best movies I've seen in a long time; it was so moving and inspirational! I also love the Hotel Transylvania movies for a good laugh; Drac is my favorite character and I laugh every single time I hear him say "blah, blah, blah!"
Favorite song?
"A whole new world" from the Aladdin movie
Favorite book?
I am a huge Harry Potter fan; I love all of the books!