We love the Sneaky Snacky Squirrel game! It's fun, quick, and teaches many skills at once. Whether your child has Autism, Down Syndrome, or other types of learning and developmental delays, this game is a great way to help your child develop and expand skills at home. All the while, your child will be laughing, engaging and won't even realize that he's learning at the same time. The best kind of learning is fun learning!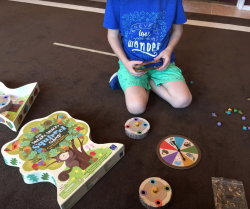 How To Play
These squirrels are sneaky and hungry, and so much fun! Spin the spinner, squeeze the matching colored acorn with your fun Squirrel Squeezer.  Place the acorn into your log, and continue doing this as quickly as possible. Be the first to fill your log with delicious acorns and you're the winner of the game! You could also spin  "steal an acorn," "pick an acorn,"or "lose an acorn," so this game is great for developing strategy skills.
What This Game Teaches Your Child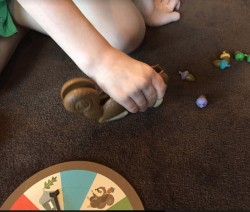 Color learning
Strategic thinking
Hand-eye coordination
Fine motor skills
Pre-handwriting skills
Social skills and turn-taking
Memory and attention
Matching, sorting, counting, and simple math skills
DISCLAIMER: Information published about one particular disorder does not necessarily apply to every individual who has the disorder discussed in this article. Treatments and therapies are highly individual and must be customized to the needs of each person to be effective. Do not make changes to your/your child's treatment plan as a result of what you read in this article (or any content published by AASL) without consulting your/your child's physicians and therapists. This content does not necessarily reflect the opinions of All About Speech and Language or its therapists. To understand the opinions and recommendations of your/your child's AASL therapist, schedule an appointment with your therapist to discuss your concerns.
Tags:
Autism
,
Color learning
,
down syndrome
,
hand-eye coordination
,
memory and attention skills
,
Social Skills
,
strategic thinking