We love the Sneaky Snacky Squirrel game! It's fun, quick, and teaches many skills at once. Whether your child has Autism, Down Syndrome, or other types of learning and developmental delays, this game is a great way to help your child develop and expand skills at home. All the while, your child will be laughing, engaging and won't even realize that he's learning at the same time. The best kind of learning is fun learning!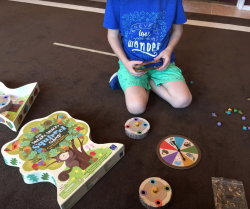 How To Play
These squirrels are sneaky and hungry, and so much fun! Spin the spinner, squeeze the matching colored acorn with your fun Squirrel Squeezer. Place the acorn into your log, and continue doing this as quickly as possible. Be the first to fill your log with delicious acorns and you're the winner of the game! You could also spin "steal an acorn," "pick an acorn,"or "lose an acorn," so this game is great for developing strategy skills.
Complete This Short Form to Read More...
Tags:
Autism
,
Color learning
,
down syndrome
,
hand-eye coordination
,
memory and attention skills
,
Social Skills
,
strategic thinking