Being a stay-at-home mother of three and military wife, since 1999, has been rewarding and special.  I have enjoyed being able to be a stable presence in my children's lives all those years.  Now that they are older and depend on me less, I decided it was time for me.  I put myself through school, earning an associate's in Health Care Administration and a bachelor's degree in Human Services.  Longing to find my place in the work force, I was blessed to become an AASL team member.  I enjoy getting to know our families here at AASL and being a part of a team that is dedicated to making a difference.  Through my valuable role at the front desk, in both speaking to and interacting with our clients and families on a daily basis, I get the pleasure of being of service to their needs and supporting them to answer any immediate questions, collect pertinent information, and help them as they get ready to work with our amazing therapists!  Be on the lookout for fun Disney additions by the check-in window when you come into the office!   In my spare time, you will find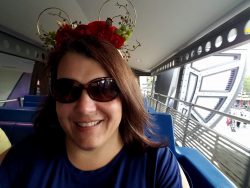 my OHANA and I making memories at Disney World!
Get To Know Emily: 
What is your favorite holiday and why?
Christmas is my favorite holiday.  It takes me back to my childhood and the joy of family being together creating memories.
What is a cool hobby of yours?
Trying to paint.  I cannot draw a straight line, but I enjoy trying to re-create a Bob Ross painting!
What did you want to be "when you grow up"?
I always wanted to be a wife and mother, and that is exactly what I did.  Now that my kids are older, I wanted to find work in a company that strives to make a difference.  That is what I have found in AASL.
Give me one surprising/cool fact about you?
I love taking photos of landscapes, sunsets, and wildlife.
What pets do you have and what are their names?
We currently have a 145lb Saint Bernard named Lilo!  She is such a sweet, big baby!
What is your favorite movie and why?
Moana, because the ocean calls me too!