These activities can help strengthen your child's muscles and build their endurance!
Swimming – Weightless in Water!
"Just keep swimming, swimming, swimming!" Dory in Finding Nemo had the right idea! In the water, the body is weightless…which means that low muscle tone is less of a hindrance and there's no chance that your child will lose balance and fall.
Moving the body through the water can also build low muscle tone as gross motor skills improve and gives your child the coordination and strength he needs to function better outside of the water!
Horseback Riding – Never Enough Horsing Around!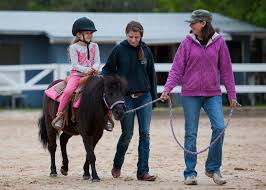 Who ever said horsing around was a bad idea?! A child doesn't have to ride competitively or participate in the more dangerous riding sports to benefit from riding.
Horseback riding (while sitting or lying down on the horse), helps children with low muscle tone build their cores and many other muscles. According to a CanChild Centre for Childhood Disability Research study, riding horses teaches children to manipulate their bodies and builds muscles in many areas throughout. They can work on improving their balance as well!
Martial Arts – "Ay-ya!"
Martial arts are a great way to build muscle tone once your child is comfortable standing and has gained balance. According to Understood, a non-profit focused on learning and developmental delays, martial arts are great for kids with motor challenges because, children are taught slowly and deliberately, and in an organized manner.
They aren't asked to do more than they can handle and they're able to progress at their own pace. You can even practice the exercises and positions at home to help with your child's learning and progression. When skill levels are achieved, enjoy celebrating these accomplishments and your child's hard work!
Yoga – "Ommmm!"
Yoga exercises have the added benefit of being slow moving, so your child can take his time getting into position, move at his own pace, and have less of a risk of falling with these floor exercises.
Switch it Up
The great thing about these sports is that they are all so different. If your child is prone to boredom, you can switch them up easily without your child feeling like she's doing the same thing over and over.
Remember, increased muscle tone can open the door to participation in new activities. Try some of these ideas for ways to build your child's strength and stability in a fun and motivating way. Maybe your child will find a new activity he or she is passionate about!
Sources:
https://www.canchild.ca/system/tenon/assets/attachments/000/000/710/original/stayfit_JWGorterPoster_PisaOct2012.pdf
https://www.understood.org/en/friends-feelings/child-social-situations/sports/5-fun-sports-for-kids-with-motor-skills-issues#slide-6
https://www.karenpapemd.com/core-support-options/
https://www.livestrong.com/article/339847-the-best-sports-for-kids-with-low-muscle-tone/
DISCLAIMER: Information published about one particular disorder does not necessarily apply to every individual who has the disorder discussed in this article. Treatments and therapies are highly individual and must be customized to the needs of each person to be effective. Do not make changes to your/your child's treatment plan as a result of what you read in this article (or any content published by AASL) without consulting your/your child's physicians and therapists. This content does not necessarily reflect the opinions of All About Speech and Language or its therapists. To understand the opinions and recommendations of your/your child's AASL therapist, schedule an appointment with your therapist to discuss your concerns.
Tags:
down syndrome
,
hypotonia
,
special needs
,
Special needs sports children