While you'll hear us push for story time or imaginative play as ways to engage with your child, we understand that life happens and the TV/tablet/etc. is going to get turned on for our littles. Be aware, though, that not all shows are created equal! It is important to still be mindful of the quality of the show you are choosing for your child. Look out for a few markers of a better-quality show. We are looking for shows that encourage speech development! So be sure to avoid programs that do not use actual words (for example, the television show "Sunny Bunnies" follows the adventures of five balls of light who cause mischief, but do not speak). Also be weary of characters who only repeat the same words over again (for example, "Chicky" the loveable chick who only repeats the word "Chicky".)
Below, we have recommended a few options that are better quality options for building your child's communication skills: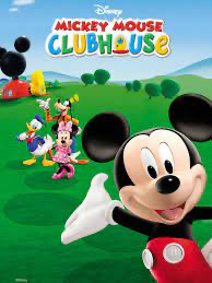 Mickey Mouse Club House
WHY: One of the many reasons why we love Mickey Mouse Clubhouse is because of its problem-solving activities! Your child works through a mystery with their friend Mickey and their "mousketools"! This show has also woven in learning games with shapes, colors, counting etc. For example, your child can follow along as the characters count aloud! The fun, catchy songs encourage body movement, as well as speech vocabulary! Who knew you could learn while singing the infamous "Hot Dog" song?!
WHO: Ages 3-4+
Daniel Tiger
WHY: Our AASL team loves Daniel Tiger for so many reasons. We follow him as he bravely does activities our kiddos are facing in real life like the first day of school, meeting a new baby brother or sister, going to the dentist etc. AND there's an app that goes along with it as well! Daniel Tiger For Parents app teaches social-emotional skills, feelings, self-control, kindness, etc. Fun Fact: Daniel Tiger was created with Mr. Rogers' social emotional curriculum as a model!
WHO: Pre-School Age 2-4 years
Doc McStuffins
WHY: Doc McStuffins follows the story of a young girl who pretends to play as a veterinarian with her stuffed animals when all of a sudden, they come to life! We watch as she fixes up her furry friends like Lambie the lamb or Stuffy the dragon! Doc uses a wide variety of vocabulary as she heals her friends. Doc McStuffins is also good for learning feelings, how to communicate them, and problem solve! In one episode, she helps the Mayor of Stuffinsville overcome his embarrassment of getting stuck on his words! The mayor overcomes his fear of his stuttering by giving a wonderful speech to the crew!
WHO: Ages 4+
Word Party
WHY: Word Party is a super fun show where cute baby animals learn new words and life lessons through song! The songs provide repetition of vocabulary for our kiddos. They also work on timed pauses for thoughts and processing, problem solving and age-appropriate play skills!
WHO: Ages 5+
Complete This Short Form to Read More...