Melissa attended the University of South Florida, where she earned both her Bachelor of Arts (B.A.) degree in Communication Sciences and Disorders and Master of Science (M.S.) degree in Speech-Language Pathology.
Upon graduating, Melissa worked at a public elementary school in Hillsborough County for three years with children in grades PK-5th, including younger children as part of the county's early intervention program. Melissa has experience evaluating and treating children with communication disorders in various areas, including articulation and phonology, fluency, expressive and receptive language, social skills/pragmatics, Autism Spectrum Disorder, Down Syndrome, Developmental Delay, Intellectual Disabilities, Augmentative and Alternative Communication, Deaf and Hard of Hearing, and others. She enjoys providing individualized therapy that is equal parts enjoyable and effective using evidence-based strategies.  Melissa began working with All About Speech & Language beginning in the Spring of 2020, first as a part time afterschool position; she is thrilled to now be a full time team member!
Melissa's passion is to provide an inviting environment created to foster growth of the communication skills and confidence of her clients. Melissa values transparency and communication with parents and clients to promote generalization of learned skills to their everyday lives outside of the therapy room.
In her free time, Melissa enjoys escaping reality by reading books and watching Netflix. You can find her exploring downtown Tampa with friends, watching sunsets on the beach, or online shopping for things she doesn't need.
More about Melissa…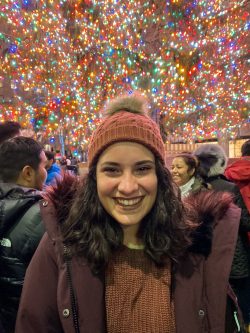 What is your favorite food?
Sweet potato fries!
What is your favorite holiday and why?
Christmas because I love the thought process that goes into giving thoughtful gifts. It's also a time that you get to celebrate with friends and family for up to a month in advance!
What is a cool hobby of yours?
I love building Lego sets (not too frequently because it's a pricey hobby).
Favorite Halloween costume you wore as a child?
Princess Leia when I was in first grade! The store did not have a Leia costume, so we had to improvise by using a ghost costume and belt!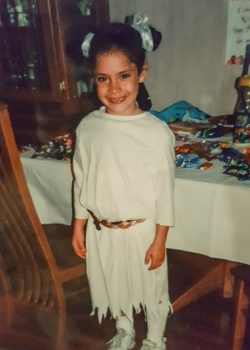 What did you want to be "when you grow up"?
A veterinarian, until I realized I had a weak stomach.
Why did you become a therapist?
I became a therapist because I wanted to work in a profession where I can make an impact on someone else's life. Speech-Pathology has the perfect mixture of health, education, and heart.
What's the funniest thing one of your kids has said to you or done during therapy?
When a student was asked to name the item in the picture (startfish), she said "Patrick!" After she received confirmation and was asked what Patrick is, she exclaimed, "Patrick!"
Give me one surprising/cool fact about you?
I played the clarinet from 4th through 12th grade.