Marytna is thrilled to be part of the AASL team where she loves helping children gain independence in meaningful daily roles, including self-care, academics, peer and community interactions.
Martyna attended Keiser University for her Associate of Science (A.S.) in Occupational Therapy and is a Florida Licensed Certified Occupational Therapy Assistant (COTA/L). Prior to working in healthcare, she received her Master of Science (M.S.) in Integrative Biology from the University of South Florida and her Bachelor of Art (B.A.) in Biology and Studio Art from William Smith College. Martyna is an active member of several professional organizations, including the Florida Occupational Therapy Association and the American Occupational Therapy Association.
Martyna is dedicated to working with children of all ages, as well as their parents and caregivers. She understands the importance of play as the foundation of learning, enabling children to develop skills necessary to interact with their environment, complete everyday activities, and build social relationships. Martyna is focused on implementing treatment interventions that progress functional skill development while targeting individual child and family goals through activity analysis and evidence-based practice. Martyna understands and values the importance of educating and providing parents and caregivers with tools and resources to further their child's progress within the home and across settings.
Martyna has several years of experience working with children ages K-12 in both one-on-one and group learning environments. She further cemented her love of pediatric practice during her clinical rotation here at AASL!
Get to Know your therapist – Martyna:
What is your favorite food?
Sushi
What is your favorite holiday and why?
Christmas. My family is from Poland, and I enjoy cooking the traditional dishes associated with Christmas Eve dinner for my family and friends.
What is a cool hobby of yours?
I enjoy sketching and painting with watercolors and acrylics.
Favorite Halloween costume you were as a child?
Peter Pan. I loved the green hat and red feather.
What did you want to be "when you grow up"?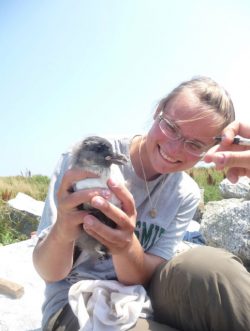 A wildlife photographer.
Why did you become a therapist?
As a therapist, I can provide people with the tools and resources they need to get them doing the activities they enjoy daily.
What's the funniest thing one of your kids has said to you or done during therapy?
I was working on a craft with a little friend that involved different colors of glitter. When I asked what their favorite color was, they replied, "GLITTER!"
Give me one surprising/cool fact about you.
I spent a whole summer living on islands off the coast of Maine in a seabird colony.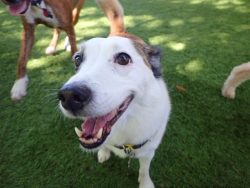 What pets do you have and what are their names?
I have a dog named Luke.
What is your favorite movie and why?
The original Star Wars series. I watched them all on VHS with my father.