Madison has a Bachelor of Arts degree in Psychology with a focus on children and a minor in Sociology. After realizing that Mental Health Counseling wasn't the career path for her, she spent a day with a Speech-Language Pathologist for a job shadow and knew she had found her passion. Madison joined the online post-baccalaureate program at the University of South Florida- Sarasota Manatee campus to obtain her Bachelor of Science degree in Communication Sciences and Disorders. From there, she completed her Master of Science degree at USF in Speech-Language Pathology.
Madison began her career as a speech-language pathologist at a Title 1, Renaissance School in Hillsborough County. She has experience working with children in the areas of English Language Learning, Fluency, Apraxia of Speech, Autism Spectrum Disorder, Emotional Behavioral Disorder, Intellectual Disabilities, Developmental Delay, Expressive and Receptive Language Disorders, Articulation and Phonological Disorders, Augmentative and Alternative Communication devices, pragmatics and social skills, and much more. Madison enjoys working with children of all ages and abilities, especially preschool aged children and those on the Autism Spectrum. She is passionate about planning interactive, evidence-based therapy to help children reach their goals. She is a firm believer in working with families to better understand how to support their child at home, in school, therapy, and in the community.
Madison is so excited to be a part of the AASL team so she may continue to support children in reaching their communication goals, fostering independence and pride, and creating an environment of respect and support with the families she works with.
When Madison isn't at work, she is likely reading, spending time with her husband and dog, relaxing with friends, watching Netflix, or painting her nails. She loves all things Harry Potter, can never eat enough pizza, and can't resist a good pair of shoes.
More About Madison…
What is your favorite food?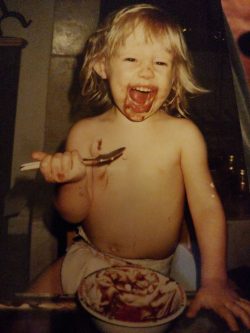 Favorite meal: pizza! I used to work at a Mellow Mushroom and had pizza every day.
Favorite treat: anything chocolate
What is your favorite holiday and why?
I love Christmas because I take gift-giving pretty seriously and really enjoy finding that perfect item.
What is a cool hobby of yours?
I paint my nails myself every week! It's my "me time".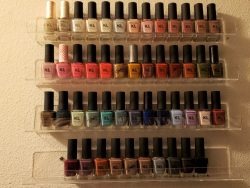 What did you want to be "when you grow up"?
I always said I would be the voice of a cartoon character! I was teased for having a "baby voice" when I was little and that seemed like the best way to use it to my advantage.
Why did you become a therapist?
I love working with kids and helping people! My first bachelor's degree is in Psychology, but I decided I like talking too much to listen all day. Being a speech-language pathologist allows me to do what I enjoy while talking, A LOT.
What's the funniest thing one of your kids has said to you or done during therapy?
When I worked in an elementary school my students asked me if I lived in my office and wanted to know where I sleep. They couldn't believe that I had a house and went to places like the grocery store and restaurants, just like them!
Favorite Halloween costume you wore as a child?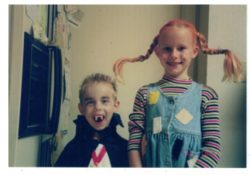 Pipi Longstocking! We sprayed my hair red and put wire in it to make my braids stick out.
Give me one surprising/cool fact about you?
I can wiggle my ears!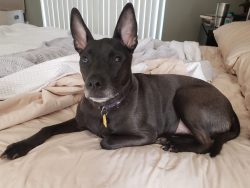 What pets do you have and what are their names?
I have a dog named Kimber and a lot of fish.
What is your favorite movie and why?
If it is Christmas- Elf because it makes me laugh and get in the holiday spirit.
Any other time of year- The Greatest Showman because it inspires me, and I love the songs.

Favorite song?
This changes based on my mood but I always sing "Beautiful Soul" by Jesse McCartney if I have a song stuck in my head and that gets rid of whatever song is in my brain.
Favorite book?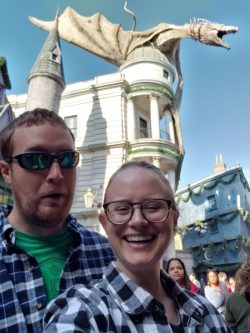 HARRY POTTER! I've read each of them at least 4 times.