Jennifer attended the University of Maryland where she earned her Bachelor's degree in Psychology with a minor in Child Development. She went on to earn her Master of Science in Occupational Therapy from Towson University, with a research focus on services related to quality of life in families with children on the autism spectrum.
Jennifer completed her clinical training at Johns Hopkins Hospital in Baltimore, Maryland, where she started her career as a pediatric occupational therapist. Here she worked with a complex and diverse group of children with special needs, providing both individual skilled occupational therapy services and group sessions pertaining to development of age appropriate social skills and functional life skills.
Jennifer has received additional training in the Zones of Regulation Program, Handwriting Without Tears, Sensory Integration Building Blocks, and Motor Praxis Learning. She is certified in Nonviolent Crisis Intervention Training, Positive Behavioral Intervention and Supports, Interactive Metronome, and Rhythmic Entrainment Intervention. Jennifer additionally has experience working with adult populations in neurological acute care and sub-acute rehabilitation settings.
Jennifer strives to promote and develop independence for the children she works with by applying evidenced-based practice to address their unique needs. Jennifer has presented research and workshops on topics including: Use of Weighted Blankets as a Sensory Strategy, Behavior Management and Emotional Regulation in Pediatric Populations, and The Role of Occupational Therapy in Pediatric Psychiatry. She additionally established "Community Living Skills," a series of functional group protocols to integrate effective skills-based treatment into standard practice. This work was featured in AOTA's OT Practice Magazine and acknowledged in AOTA's Distinct Value Statement as Exemplary Practice.
Since re-locating to Florida in August of 2015, Jennifer has worked in a private outpatient pediatric practice, continuing to fulfill her life's passion of helping children achieve success in peer, home, academic, and community roles. Jennifer is proficient in administration of comprehensive assessments and works with families to develop and implement child-centered, individualized treatment plans based on identified needs and child/family goals. She has experience evaluating and providing treatment in the areas of fine motor and gross motor coordination, functional strength and endurance, visual motor and visual perceptual development, sensory processing and integration, self-regulation, executive functions, and activities of daily living.
In addition to Jennifer's commitment to helping children engage in meaningful daily roles, she loves to spend time with her family and friends, read a great book on the beach, go for runs along Bayshore Boulevard, and cheers on her favorite sports teams!
Fun Facts About Jennifer:
What is your favorite food?
Maryland Blue Crabs
What is your favorite holiday and why?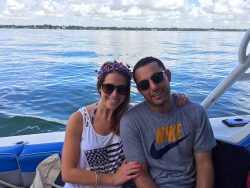 My favorite holiday is the 4th of July because I spend it enjoying quality time with friends and family outside! I love summertime and being outdoors, so this holiday really takes the cake for me! I also love the 4th because I enjoy watching fireworks, cooking and eating at a BBQ or picnic, and of course celebrating our amazing country! God bless America!
What is a cool hobby of yours?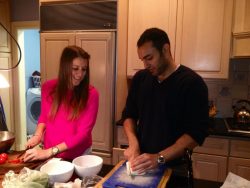 One cool hobby of mine is cooking! Cooking is an activity that my husband, Jeremy, and I very much enjoy to do together. Diet and nutrition are very important in our household and we love to prepare healthy meals and create new recipes using all of our fun kitchen gadgets!
Favorite Halloween costume you wore as a child?
My favorite Halloween costume growing up was Dorothy from Wizard of Oz. I think I was about 7 or 8 years old. Aside from being super excited to wear my hair in pigtail braids and put on a brand new blue and white-checkered dress, I was so excited to trick-or-treat that year! My mom had spray painted my tap shoes this amazing shiny, ruby-red color, and I clicked my heels as I walked from house to house! I collected candy in a wicker basket, and I couldn't wait to say "there is no place like home," at the end of the night!
What did you want to be "when you grow up"?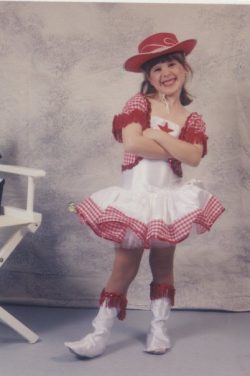 I have always loved children, even when I was a child myself. I was fascinated with babies and toddlers. From a very young age took it upon myself to "take care" of any younger children nearby (whether they were willing participants or not, we may never know).  As soon as I was old enough (which back in the day was around 11 or 12 years old apparently), I started babysitting kids in the neighborhood.  I always knew I would work with children in some capacity, but the specifics fluctuated throughout the years.  First it was a ballet/tap teacher for little girls, then a horseback-riding instructor for elementary schoolers. I really wanted to be a 3rd grade teacher for a while, after an incredible 3rd grade experience with my forever-favorite teacher Ms. Berman. I even went through a long phase where I wanted to be an attorney for children in need. Ultimately, I decided I wanted to work with children with special needs, in the field of occupational therapy. Best decision ever! Read more to find out why!
Why did you become a therapist?
I decided I wanted to become an occupational therapist the summer going into my freshman year of undergrad. I came upon an opportunity to work at a camp for children with special needs. It was here that I was first exposed to the field of pediatric occupational therapy, which I took great interest in. I worked as a one-on-one counselor to a child with autism within an inclusive bunk setting. I formed an amazing bond with my camper, Julian. I taught him how to swim that summer, but in the process he taught me so much more.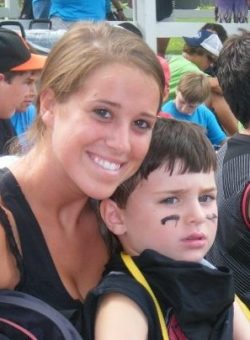 Julian was incredibly fearful of the swimming pool, which led to severe breakdowns, including hitting, biting, kicking, and screaming, every day at  "swim time." After the second day on the job, I made it my mission to help this child overcome his fear of swimming. I put on my detective hat to try and figure out what exactly was setting him off. From there I came up with a plan to help him hurdle over each obstacle.
I laid a soft, fuzzy blanket outside the perimeters of the pool, and filled it with all of Julian's favorite toys, treats, and books. I gradually brought the blanket closer and closer to the pool. Discovering that the sound of the lifeguards whistle was particularly upsetting for Julian, I had each lifeguard introduce himself or herself and join us one by one on our blanket for a few minutes each day. This way Julian was able to familiarize him with each of their whistles.  Day by day we got closer and closer to the fence, then made our way inside, and eventually found ourselves sitting on the side of the pool, sans blanket. I would have him mimic my actions, putting my hands and feet into the pool one at a time. From there I would get into the pool and bring along some of his preferred items until ultimately he joined in the water and played beside me.
It brings a huge smile to my face just thinking about those times with him. I had never experienced such rewarding or fulfilling work. I knew that this was how I wanted to spend my life, making differences (whether big or small) in the lives of children with special needs. Working with Julian I applied patience, empathy, determination, and ingenuity in ways that I never knew I was capable. This was a challenging and thought provoking position, and I loved every minute of it.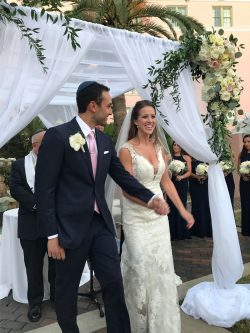 Every week Julian was provided an occupational therapy and speech therapy session. I sat in on these sessions, and as I described our accomplishment at the swimming pool to Julian's OT, she exclaimed, "sounds like you were doing occupational therapy!" The rest is history.
What's the funniest thing one of your kids has said to you or done during therapy?
When I came back to work after my wedding, I had a child ask me: "I love you, and you love Mr. Jeremy. So…Mr. Jeremy is my husband now too, right??"
Favorite song?
"Head, Shoulders, Knees, and Toes" and "Hokey Pokey" are two of my favorite songs because I love to sing these with my kiddos! Song and dance are great ways to get our bodies moving and these types of sing-a-longs help foster body awareness, timing, and motor planning while having fun!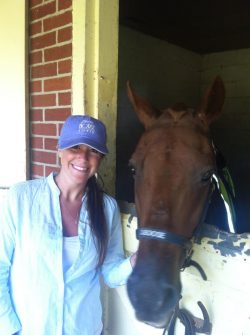 Give me one surprising/cool fact about you?
One cool fact about me is that  I used to be an equestrian! I grew up riding and I have always loved horses, still do!
Favorite book?
My favorite books growing up were the Molly: An American Girl series.  I adored my American Girl doll, Molly, and many of my fondest memories of childhood involve playing with Molly and her zillion accessories, and reading her stories before bed with my mom.  Molly was one of the "historical" American Girls  and through her book series we were taken back to WWII era in America through the eyes of Molly Mcintire, a nine-year-old girl. I loved each of the books in the series and the incredible lessons they taught me.
What is your favorite movie and why?
My favorite movie is The Lion King because of the incredible soundtrack and my forever fascination with African animals. Here I am at the Serengeti National Park in Tanzania!  We saw so many majestic animals on our Safari trip. Here are Simba and Nala in real life!