Jenna attended the University of Florida, where she earned a Bachelor of Health Science (B.H.S.) degree in Communication Sciences and Disorders with a minor in Linguistics. She graduated from the University of South Florida with a Master of Science (M.S.) degree in Speech-Language Pathology.  Jenna also graduated completing a Masters Thesis around childhood stuttering and fluency, one of her passions.
Prior to earning her Master's degree, Jenna spent one year working as a Speech Language Pathology Assistant, providing care for children ages 12 months through 16 years at a private clinic.  After she earned her degree, she continued her work in the private practice setting, additionally providing therapy to preschool through middle school-age students in schools during the day, in order to pursue her love of pediatrics.  Jenna is especially interested in the domains of literacy, fluency, and pragmatics. She has experience evaluating and providing treatment in the areas of expressive and receptive communication, articulation, voice, fluency, and Autism Spectrum Disorders (ASD).  In addition, Jenna has been a co-leader of a school-age social group utilizing the Superflex curriculum.  Jenna is dedicated to providing quality treatment tailored to each individual, implementing functional strategies that facilitate generalization outside of the therapy setting.
Jenna also enjoys working with adults, with valuable experience to serve current and new adult patients who choose AASL as their therapy home.  She has provided therapy in a long-term acute care setting in the areas of voice, swallowing, and cognition.  She also has participated in aphasia groups and an intensive fluency group.
Jenna enjoys spending her free time with family and friends, exploring new places, and cheering on the Florida Gators!
More About Jenna…
What is your favorite food?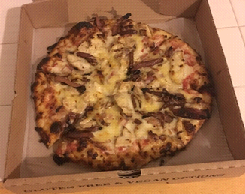 Anything CHEESY! Nachos, Pizza, you name it!
("The Gambini" from Gourmet Pizza Company)
What is your favorite holiday and why?
Thanksgiving—I love spending quality time with family and making/eating lots of delicious food
What is a cool hobby of yours?
I like to cook! Finding new ways to make healthy tasty foods has turned into one of my pastimes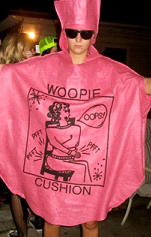 Favorite Halloween costume you wore as a child?
Whoopie Cushion… (as an adult)
What did you want to be "when you grow up"?
A news anchor- I was on the school news in 5th grade
Why did you become a therapist?
Helping people and communication are two of my favorite things!
What's the funniest thing one of your kids has said to you or done during therapy?
Too many to count! One of my recent favorites is when a little friend asked if I live here (the AASL clinic)
Another is when I asked a little one what they like best about the beach and she responded "hot dogs!"
Give me one surprising/cool fact about you?
I'm 25% Italian!
What pets do you have and what are their names?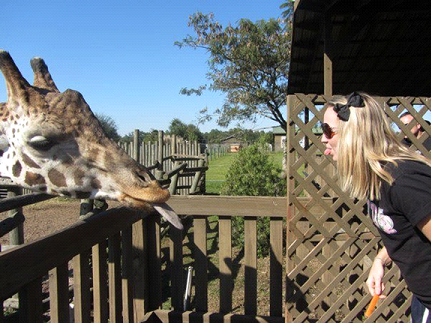 No pets, but my favorite animal is a giraffe!
What is your favorite movie and why?
Jim Carrey's The Grinch! It may be a Christmas movie, but it's funny all year round J
Favorite song?
We are Family by Sister Sledge
Favorite book?
Llama Llama Red Pajama by Anna Dewdney