Colleen has always loved children. Colleen's parents are in the medical field and occupational therapy was introduced to her by her father, who is a physical therapist. She found that occupational therapy encompasses all of her loves. Helping kiddos become as independent as possible through daily tasks such as dressing and eating is what it is all about. When a child learns to tie their shoes or takes a bite of a new food, it fills her heart.
Colleen received her Master's in Occupational Therapy from the University of Florida in 2010. Following her internship in pediatrics, she knew this was her home. Colleen is passionate about emotional regulation and feeding as specialities. She has taken a variety of continuing education classes in approaches such as Zones of Regulation, A.E.I.O.U Systematic Approach to Pediatric Feeding, and SOS Approach to Feeding. Since 2011, Colleen has worked with children with a wide variety of diagnoses.
Colleen works with families to develop a child-centered plan to help their child reach their highest potential and gain skills for everyday life. She believes an interdisciplinary approach connects all of the child's team members and produces the greatest results!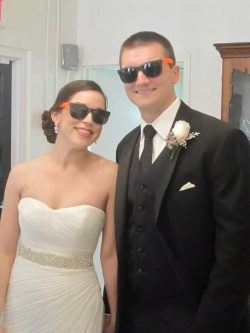 Colleen grew up in the area and returned in 2012 with her husband. They have two beautiful daughters. Colleen enjoys cooking, yoga, and trying new restaurants. She loves playing with her girls and spending time with family.
More about Colleen:
What is your favorite food?
My favorite food is a tie between pizza and ice cream! I love Hawaiian
pizza with ranch. I will always save room for dessert if ice cream is on the menu, especially mint
chocolate chip!
What is your favorite holiday and why?
My favorite holiday is Christmas. Growing up I loved driving around to look at the lights and decorations. I look forward to starting traditions with my daughters.
What is a cool hobby of yours?
I really love to cook. Trying new recipes or emulating a restaurant favorite such as "Chicken Bryan" from Carrabba's. Recently I have experimented with making bread. Homemade bread makes a delicious grilled cheese sandwich!
Favorite Halloween costume you wore as a child?
My sisters and I loved dressing up for Halloween growing up. One year as a family we were a deck of cards. My Mom handmade dresses with symbols and we had headbands with some playing cards attached.
What did you want to be "when you grow up"?
I wanted to work at Sea World and be a marine biologist. I liked Free Willy as a child and thought it would be a cool job.
What's the funniest thing one of your kids has said to you or done at home or at AASL?
When my daughter learned that my first name was Colleen there was a week or two that she used my
first name instead of Mommy. At the grocery store walking with my husband she called out for me "Colleen, where are you?". It was very funny.
Give me one surprising/cool fact about you?
I took three years of sign language in college. I try to use it whenever I can.
What pets do you have and what are their names?
I don't have any pets as an adult because I am
allergic. As a child we had a cat named Dixie and she was the best! She liked turkey slices and was the
best snuggle buddy.
What is your favorite movie and why?
Elf always puts me in a good mood anytime of year but especially in December.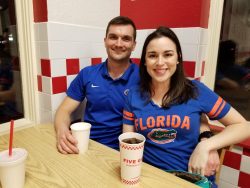 Favorite song?
My Girl from the Temptations. My dad and I had a choreographed dance to this song at my wedding.
Favorite book?
I like books from Nicholas Sparks. The Notebook is such a sweet story.
Anything else that is fun or exciting to share about you?
My husband and I met at the University of Florida so we are big Gator Fans! Go Gators!