Brianna has always wanted to make a difference in the world. Her motto is "even if you can't change the world, you can change someone's world"; and that is what she strives to do. She is thrilled to join such an amazing team that changes the lives of the families they serve.
Brianna will graduate from Brigham Young University with a Bachelor's degree in Business with an emphasis in Experience Design and Management in December 2021.
During her time studying in Utah, she discovered a love of nature as she hiked mountain trails and worked for a museum of natural sciences.
Her major in Experience Design has also ignited a passion for creating meaningful experiences in all aspects of people's lives.
Brianna finds joy in working with children as well.
She has been an educator in two museums where she has demonstrated her skills in event planning, public speaking, and engaging children and families in educational programs.
In November of 2020, Brianna moved back to Florida where she enjoys being close to her family, spending time at the beach, making art, and playing music. She is so excited to join the AASL team as their Front Desk Receptionist and can't wait to help create a positive environment for families as soon as they walk through the door.
More about Brianna:
What is your favorite food?
I love food but my favorites would have to be pizza and bbq ribs.
What is your favorite holiday and why?
I love Christmas because of the time I get to spend with my family. I love giving gifts, eating food, and playing guitar for my family to sing Christmas songs to.
What is a cool hobby of yours?
I love to sing and play guitar! I recently got an electric guitar and a key board so I am learning to play those!
Favorite Halloween costume you wore as a child?
I remember my butterfly costume being my favorite because of the wings and colorful makeup!
What did you want to be "when you grow up"?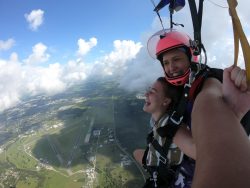 I wanted to be a zoologist so I could study animals. Thankfully I've had some cool jobs where I have been able to still work with and handle animals without being a zoologist.
Give me one surprising/cool fact about you?
I went skydiving last summer!
What pets do you have and what are their names?
I have a corn snake that is 2 years old and his name is Rex. I recently rescued a Uromastyx, spiny tailed lizard, that is 7 years old and his name is Mito.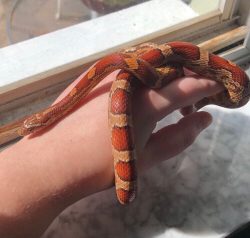 What is your favorite movie and why?
Napoleon Dynamite has been my favorite for years. I laugh every time I see it.
Favorite song?
You're welcome from Moana
Favorite book?
Anything poetry!
Anything else that is fun or exciting to share about you?
Ask me for a cool animal fact when you see me in the office!