Brandi attended the University of South Florida (USF) where she received her Bachelor of Arts (B.A.) degree in Communication Sciences and Disorders; she then continued her education at USF and earned her Master of Science (M.S.) degree in Speech-Language Pathology.
Prior to working at AASL, Brandi worked in an Elementary School where she continued to gain valuable experience working with the pediatric population. She is experienced in the evaluation and treatment of clients with a range of communication delays and disorders including but not limited to receptive and expressive language, articulation, pragmatics, early intervention, the deaf and hard of hearing population, and Autism Spectrum Disorder.
Brandi strives to personally connect and build rapport with every child and their family to promote carryover and generalization of skills to all phases of life. Brandi prides herself in creating a welcoming therapy environment and works diligently to provide evidence-based therapy activities that are interactive and modified to meet every child's need.
Brandi lives with her boyfriend in the Tampa Bay area where you will likely find her on an outdoor adventure with her dog, drinking coffee while taking care of her many house plants, and spending time with her family and friends!
More about Brandi…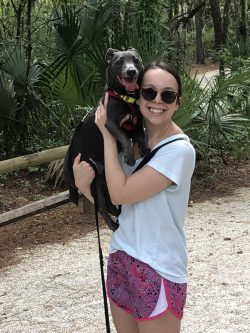 What is your favorite food?
An acai bowl; I could eat one every single day!
What is your favorite holiday and why?
Halloween, I love the fall/spooky decorations leading up to the 31st!
What is a cool hobby of yours?
I love to explore with different art mediums. Watercolor has been my latest passion!
Favorite Halloween costume you wore as a child?
My mom and I dressed up together when I was a toddler. She was a cat and I was a mouse!
What did you want to be "when you grow up"?
Even at the age of 5 I knew I wanted to work with kids, but it wasn't until High School that I realized I wanted to be a Speech Language Pathologist!
Why did you become a therapist?
I love interacting with people and helping them in any way I can! As a therapist, I enjoy working with children and seeing their progress as they gain confidence in using their voice. It's such a rewarding experience and I am so thankful for this career!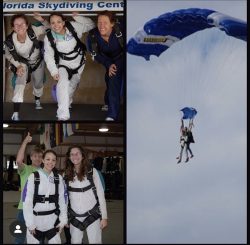 What's the funniest thing one of your kids has said to you or done during therapy?
One of my kiddos asked me what I wanted for Christmas and when I replied "A back massager" he said, "WHAT!? NO SPIDER-MAN TOY?!" He then proceeded to ask if I needed help making a better Christmas list haha
Give me one surprising/cool fact about you?
I am not a fan of heights, but I faced my fears and went hang-gliding and skydiving!
What pets do you have and what are their names?
I have a dog named Cooper and two fish!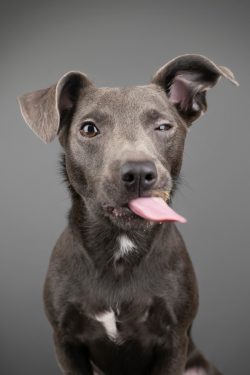 What is your favorite movie and why?
UP, I love the sweet story mixed with a crazy adventure. Also, who doesn't love Dug?!
Favorite song?
Black Water by the Doobie Brothers. My mom, the doctor, and all of the nurses were singing this song as I was being born!
Favorite book?
Love you Forever by Robert Munsch I also loved the Series of Unfortunate Events while growing up!