Andrea attended the University of Florida where she received her Bachelor of Health Science (B.H.S.) degree in Communication Sciences and Disorders with a minor in Disabilities in Society. She graduated from the University of South Florida with a Master of Science (M.S.) degree in Speech-Language Pathology. Andrea also graduated completing a study abroad trip to England where she attended the Michael Palin Centre for Stammering Children (stuttering) and studied students on the autism spectrum within the school system.
Prior to AASL, Andrea spent one year working as a Speech-Language Pathologist in the public school system. She provided intervention services for children 3 years to 11 years on general education standards and access point standards in a title 1 elementary school. She collaborated with teachers and professionals, documented progress, developed goals, and implemented Individual Education Plans (IEPs). Andrea provided Augmentative and Alternative Communication (AAC) services to ESE students including consultations, recommendations, evaluations, and follow-up services through specialized training with Environmental Communication Teaching (ECT). She implemented aspects of the Superflex Curriculum for students on the autism spectrum who access education in both the general education and ESE settings. Andrea has experience evaluating and providing intervention in areas of expressive communication, receptive communication, pragmatic communication, phonological disorders, articulation disorders, fluency, AAC, switch activation, literacy, hearing impairments, intellectual disabilities, and learning disabilities. She believes every child deserves the opportunity to communicate to the best of his or her ability.
Andrea enjoys spending her free time with her friends and family. She loves being outside, going to the beach, exercising, traveling, going to Disney World, and hanging out in her hammock.
More About Andrea…
What is your favorite food?
I have three favorite foods, chicken nuggets, pizza, and mac & cheese.
What is your favorite holiday and why?
My favorite holiday is Christmas because I love decorating.
What is a cool hobby of yours?
I love to rollerblade.
What is your favorite Halloween costume you wore as a child?
I had a blast when I dressed up as a caveman for Halloween in middle school.
What did you want to be "when you grow up"?
I wanted to be an artist when I grew up.
Why did you become a therapist?
I became a speech-language pathologist because of my brother and my jobs during my undergraduate studies. My brother is a person who stutters, so I grew up attending speech therapy sessions with him. In college, I was a nanny for a little girl on the autism spectrum, so I would often attend language therapy sessions with her. During my summers I was a camp counselor for children and young adults with disabilities.
What is the funniest thing one of your kids said to you or have done in therapy?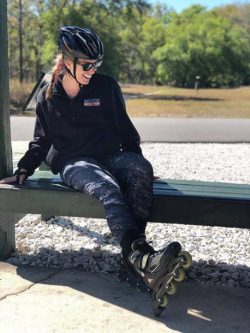 One of my kids independently used her AAC device to tell another kid "Ew!" and then proceeded to point to his nose (the other student was picking his nose).
What is one surprising/cool fact about you?
I played 4 varsity sports in high school, soccer, track, cross country, and golf.
What is your favorite movie?
As a child, Princess Diaries and The Parent Trap
What is your favorite song?
Forever by Chris Brown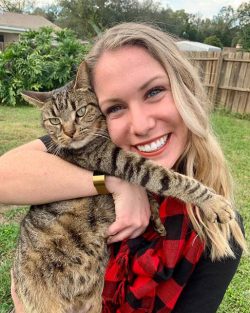 What is your favorite book?
As A Child, Junie B. Jones series
What pets do you have and what are their names?
I have a cat named Penny and a leopard gecko named General Tso.