By Brittany Garcia, M.S., CCC-SLP, Speech & Language Pathologist
The theme in our All About Speech & Language Socialights Social Skills Group, was "Sportsmanship". In every stage of life, whether it's playing a competitive sport or participating in family game night, it is important to practice good sportsmanship. Our lesson was centered around having respect for our peers/competitors so that playing is FUN regardless of winning or losing. A good attitude is contagious!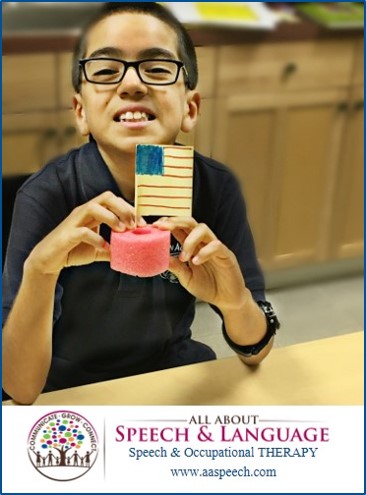 We learned that when we play fairly, support and encourage our friends, avoid bragging, and control our emotions, it leads to successful interactions that are likely to end in our friends wanting to play with us again. Each week, our themes tie back to the key concept of making social choices that promote positive thoughts from those around us.  In keeping with the holiday spirit, we provided the group members with materials to build their own Mayflower ships. We went on a mini-outing to the fountain downstairs to race the boats. We placed all the emphasis on how fun it is to play a game, even if it is competitive, with our friends.

It was remarkable to see our group members successfully apply the lesson and truly embrace the qualities of a good sport. When we as therapists hear "good job" and "okay, no big deal," and see our group members giving high fives and hugs, it makes us so proud. We structure these lessons with activities that we hope stick with the kids as they go out into the world and communicate, grow, and connect with others.
---
All About Speech & Language (AASL) offers an amazing program called Socialights Therapy.
These Social Skills Programs are designed to better adapt and grow each individual child and/or young adult.
Our mission with this program is "Social Growth for Social Success".  Click here to learn more!
Two offices to serve you!
South Tampa Office:  324 N. Dale Mabry Hwy Suite 201, Tampa, FL 33609
Riverview Office:  6152 Delancey Station Street Suite 205, Riverview, FL 33578
Contact us online here
Phone:  813-616-4004
Email:  info@aaspeech.com
www.aaspeech.com
Tags:
Social Skills
,
Socialights