All About Speech & Language is a company certified to provide the PEERS® (Program for the Education and Enrichment of Relational Skills) program to families in the Tampa Bay area.  PEERS® is an evidence-based program out of UCLA designed to help teach 12 to 19-year-old teens the skills of making and keeping friends.  In the 14-week program we cover areas such as how to chose appropriate friends, how to handle rejection, teasing, and bullying, how to enter and exit conversations with PEERS®, and how to be a good sport, to name a few.
Incidentally, our current PEERS® group covered sportsmanship the week prior to this topic being highlighted in mainstream media with Penn State's reaction to their last second November 4th loss to Michigan State.  Coach Franklin did exactly what we teach our teens; do not sulk if you lose and at the end of the game say, "good game".  We wanted to thank him for being an example of the character we are trying to instill in our teen population through this amazing program.  Click here for the Penn State article.
All About Speech & Language begins our next session of PEERS® on Thursday, January 25, 2018!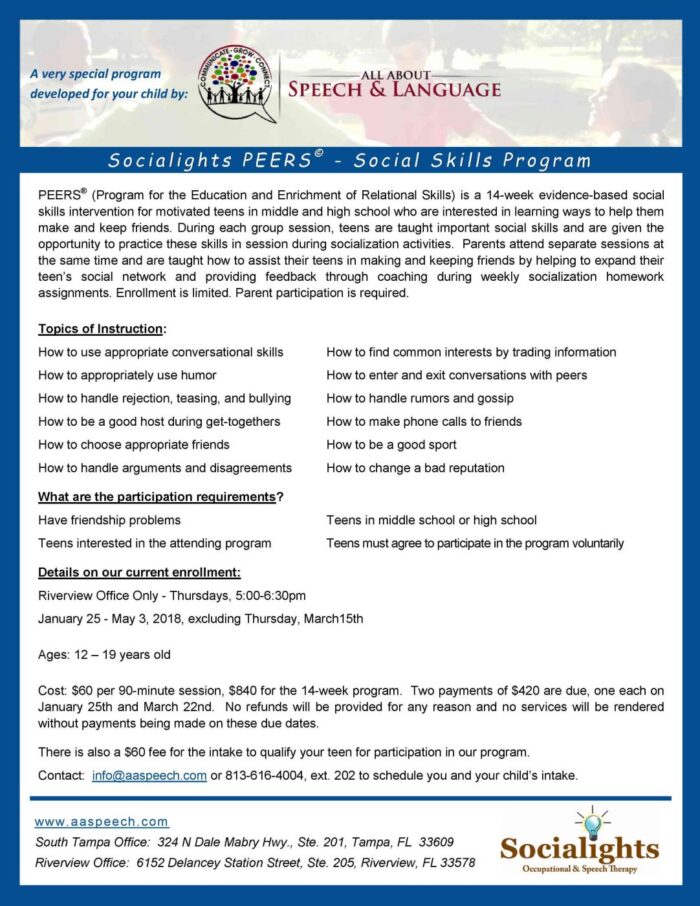 ---
All About Speech & Language (AASL) offers an amazing program called Socialights Therapy.
These Social Skills Programs are designed to better adapt and grow each individual child and/or young adult.
Our mission with this program is "Social Growth for Social Success".
Contact us online here
Phone:  813-616-4004
Email:  info@aaspeech.com
www.aaspeech.com