This August marks 10 incredible years since we first opened the doors of All About Speech & Language! We have learned so much over the years, not only about ourselves but also about our roles as therapists and owners. We have had the pleasure of meeting amazing families and children, and learning how we can best support their unique needs and enhance their lives through our services. We are excited to share 10 powerful lessons that we have learned over the past 10 years with AASL:
1. Consistency is Key This is true for every area of our lives, but it is particularly important in speech and occupational therapy. Attending therapy each week, making up missed appointments, and incorporating home practice have proven to make a significant impact on the rate at which our clients achieve their goals. There's just no way around this truth: it's hard to see gains without consistency!
2.  Knowledge is Power We have learned that although we may know the importance of our different areas of practice, we can't assume that our families know as well. Our goal is to educate our families as to how AASL can help their child's overall wellbeing. OT, for an example, is an amazing support system for a child's development but some people don't know what it is or what it addresses.  We try to create tools that will truly help our families, or anyone seeking to learn more about their child, such as our developmental tool checklist, blogs, and free downloads on our website!  We desire to help and we do our best to reflect that in everything we do and every resource we create!
3. Therapy is Not "One Size Fits All" Every child is unique in their own ways. We strive to give every child an individualized session and plan of care that will encourage their growth and meet them where they are! We believe that all children have limitless potential; with abilities that just need to be nurtured, developed, shaped, and fully maximized! There is no one way to get there, but having a team willing to be creative and give their all is so very important!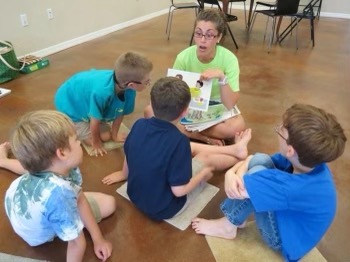 4. It's Never Too Early We've found through the years that it's never too early to reach out for help. This may be in the form of getting your questions answered about your growing child or getting them enrolled in sessions. Research shows that early intervention is beneficial for expedited outcomes in therapy. It's also never too early to start preparing your teen for what will be expected of them in young adulthood; by age 12, 13, or 14, your child's goals can shift to more functional skills, application of skills needed within home and community settings, independence skills, job preparation, etc. If ever you are unsure, our supportive team is here to guide you in the right direction, address your concerns about your child, and answer your questions!
5. It Takes a Village Caregivers are integral communication partners and members of a child's support team! We can't do this without you! We are beyond grateful for the village that has supported us along the way; and, we hope that our team has been a valuable part of your village, collaborating alongside you to help your children in every way possible. Partnering together will continue to allow all our children to achieve more!
6. A Little Hard Work Goes a Long Way This rings true in both our personal lives, and in our clinical setting. AASL was our first child before we had our own babies and we have poured our hearts and endless amounts of hard work and passion into what we do each and every day! Our team and therapists go the extra mile for all of our families and find that the harder we work for them, the more they want to mirror our efforts in session, at home, and in the community!
7. The Importance of Community We are so blessed to have our offices in the Tampa Bay area and be a part of the inclusive community. We have met incredible leaders and organizations who impact our clients' lives every day. We strive to give back to the community who has done so much for us!
8. Living our Mission Statement Our mission statement here at AASL is "Maximizing Each Child's Potential in Every Life Stage". This has been the mantra we have leaned on during every decision and challenge we have faced in the last 10 years. We want to always continue growing and working towards making an impact on a child's life fully and in its entirety. The opportunity to support a children to reach goals, whether small steps forward or leaps and bounds, leading them to be the best versions of themselves in every chapter of their lives is what drives us and our team on a daily basis. The children and families who enter our lives are the greatest blessing and keep us always striving to help others!
9. Quality Care cannot be Compromised In today's world, it has become so hard to find consistent quality therapeutic services. Combined with limited insurance coverage and increasing rates, it has become difficult for families to receive the care their children need. We have worked hard to create solutions to these problems, like our Care and Care Plus Plans, affording families the opportunity to get their children the quality services they truly need. Most importantly, providing the highest standard of quality care from the moment you call our offices is at the core of how we operate our company and an essential part of the therapy experience.
10. Remembering Our Core Values The AASL team is comprised of incredible therapists and team members who align themselves with AASL's core values of creativity, loyalty, respect, teamwork, empathy, gratitude, integrity, service, reliability, and optimism. These values are at the forefront of what we do every single day and we work hard to always align our current and future endeavors with these foundational guiding attributes!
We are so grateful for all of the people who have supported us and allowed us to see our dreams come to fruition with AASL. We could not have done any of this, or kept our doors open for 10 years, without the support of you all! To our amazing husbands, parents, and now our own children; you have walked every step of this journey alongside us, cheering us on, and helping us to say yes no matter what circumstances we have been up against in running this company and growing our amazing team! To our wonderful team members, your passion for helping others and making a difference is inspiring to us and we are so grateful for all the lives you have touched and will continue to touch. We look forward to collaborating and growing old alongside you all! To our clients and families, we do this for you each and every day; and are blessed to be a part of your lives and journeys! We are here for you always and will not stop doing our part to help your children thrive and succeed no matter what they are working towards achieving, big or small! And to the community members of Tampa; thank you for your support, willingness to come together, and dedication to making Tampa Bay the best possible place for these precious children and their wonderful families to learn, grow, and meet their highest potential! Thank you ALL, from the bottom of our hearts; we are forever grateful and feel so blessed! Here's to another 10+ years!
If you have any questions regarding our services or your child's development, please contact our offices 813-616-4004.
DISCLAIMER: Information published about one particular disorder does not necessarily apply to every individual who has the disorder discussed in this article. Treatments, therapies and suggestions are highly individual and must be customized to the needs of each person to be effective. Do not make changes to your/your child's treatment plan as a result of what you read in this article (or any content published by AASL) without consulting your/your child's physicians and therapists. This content does not necessarily reflect the opinions of All About Speech and Language or it's therapists. To understand the opinions and recommendations of your/your child's AASL therapist, schedule an appointment with your therapist to discuss your concerns.